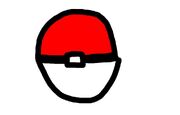 The pokeball works as it does in the games and anime. It can catch mobs at a 25% success rate.
I=iron ingot O=obsidian D=diamond
III
ODO
III
Any mob that it catches fights for you, I.E. zombies attack other mobs and creepers blow up on them.
Throw it at a wolf or cat and it will be tamed if the ball succeeds.
Crafting 10 at a time gets you a Premier Ball.